PRO Chemical & Dye - Flying Ace Disc Golf Dye Kit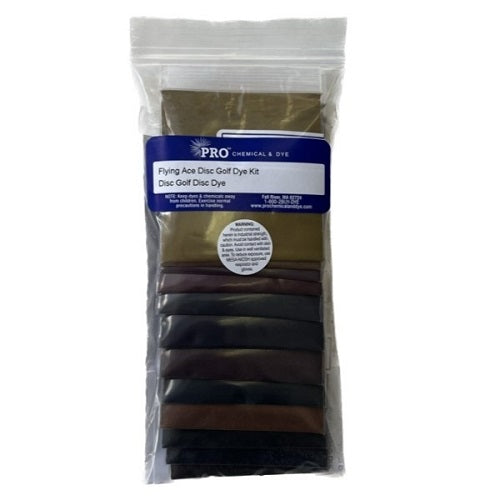 This Disc Golf Dying Kit consists of 12 ziplock bags containing the following amounts and colours for creating your one-of-a-kind disc.
10 gm. DGD120 Dandelion
10 gm. DGD200 Deep Orange
10 gm. DGD310 Cherry
10 gm. DGD350 Flame Scarlet
10 gm. DGD401 Caribbean
10 gm. DGD405 Sonic Blue
10 gm. DGD510 Burnt Sienna
10 gm. DGD608 Onyx
10 gm. DGD770 Meadow
10 gm. DGD772 Aquatic Green
10 gm. DGD880 Iris
10 gm. DGD882 Pansy
Mixing and Helpful Hint Directions Sheet included. Please note that the Dye Colour Swatches on this page are what the manufacturer achieved on actual dyed fabric. When doing any other technique, shades will vary. Also, please note that all computer and phone colour settings can vary. Please visit the manufacturer's website for safety guidelines and directions on product usage.