NEW TO THE SPORT?
Welcome to Ace Runners Disc Golf! Whether you're new to disc golf, new to buying discs, or just new to our website, we're here to provide you with some disc golf basics and helpful tips to guide you through our selection of disc golf equipment.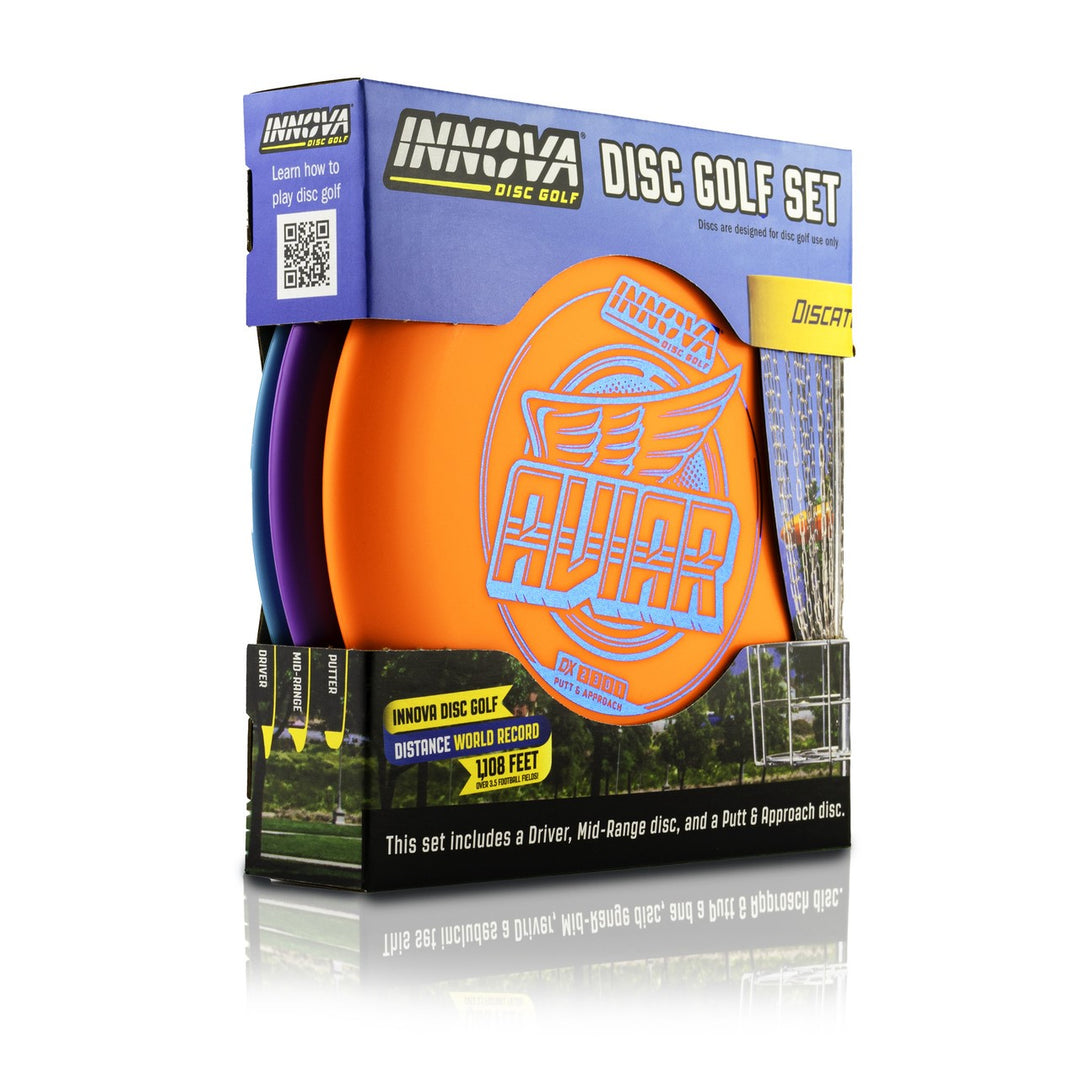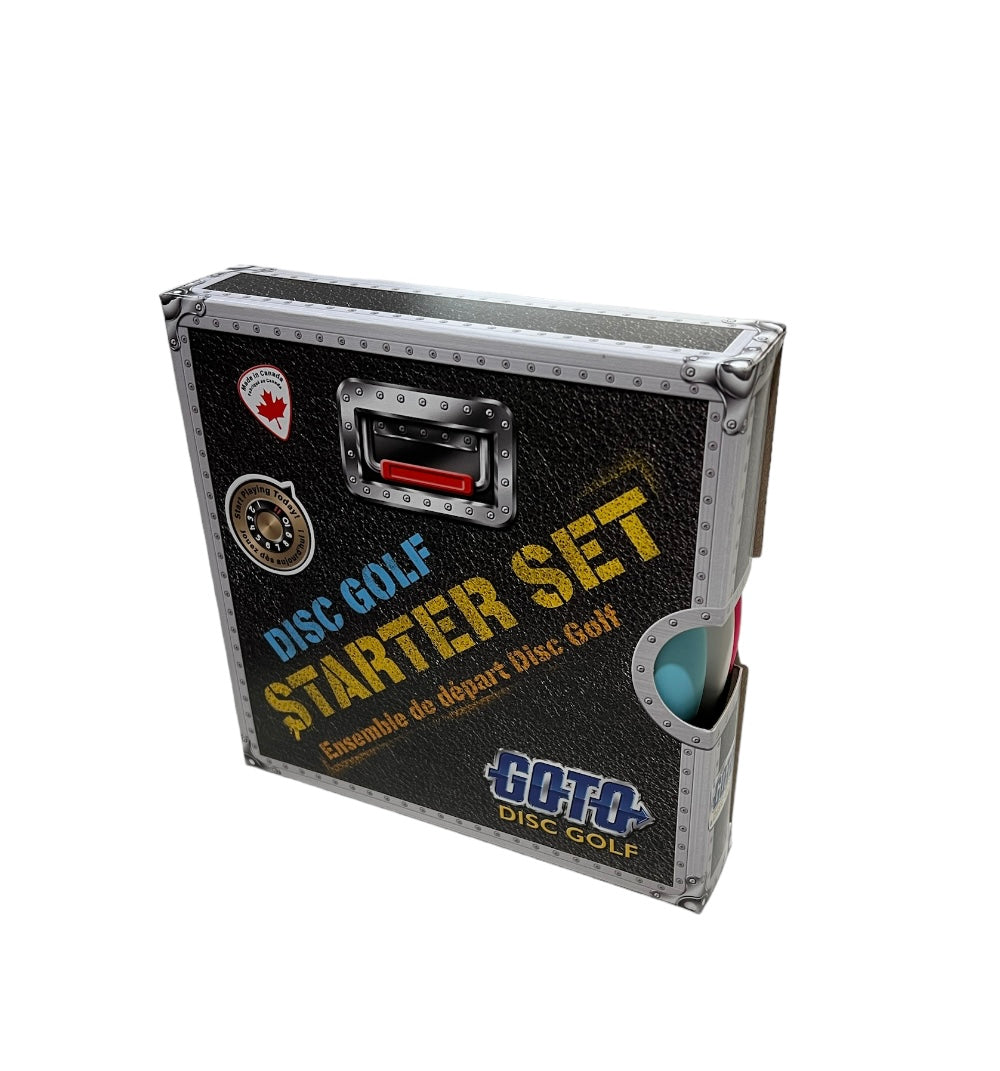 The goal of disc golf is to throw a golf disc from a tee area into a metal disc golf basket in as little throws as possible. The player with the least number of throws over a set number of baskets (usually 9 or 18) wins the game.
Basic Rules
Tee-Off: You must release your first throw from within a designated tee area.
Throwing behind your Lie: After everyone in your group has thrown from the tee area, walk to your disc. Where your disc lands is called your lie. You can throw your next shot from behind your last thrown disc or you can use a mini disc to mark the front edge of your lie and throw your next shot from behind your mini disc.
Subsequent Throws: Subsequent throws must be made from directly behind your lie within a 8 x 12 inch imaginary rectangle and one of your feet must be touching this area at the time of release.
Order of Play: After all players have thrown from the first tee area, the player whose lie is furthest from the target basket throws first. The player with the least number of throws on the previous hole throws first at the next tee area.
Everyone continues throwing until each person's disc has come to rest in the target basket, thus completing the hole. If you are within 30 feet of your target basket, you must maintain balance and not move past your lie until your disc comes to rest in the target basket.
Course Etiquette
Remain behind the player who is throwing and do not distract that player by making unnecessary noise or movement.
If someone is in your throwing range, wait until that person is out of your range.
Remove your disc from the target basket after completing your hole and before the next player attempts to throw a disc into the target basket.
Allow faster groups to play through when possible.
Do not litter. Many courses are "pack it in, pack it out" courses. That means that anything you bring in, you should be bringing back out with you.
The Professional Disc Golf Association sets out its Official Rules of Disc Golf here.
Disc golf is usually played on courses with 9 or 18 holes which have been built in natural settings that require minimal maintenance. Beginner friendly holes are generally wide open and may measure approximately 200 feet long in contrast to advanced holes which are designed to include obstacles such as trees, elevation changes, water hazards, mandatories and out-of-bound zones and may measure over 1000 feet long. The best courses include multiple tee pads and multiple targets to facilitate all levels of play and also include different layouts to challenge players to make different types of shots (i.e. backhand, forehand, overhand, roller, etc.) to perform well.
You can search for a disc golf course near you at UDisc Course Directory or DG Course Review. These sites include basic information about each course such as number of holes, address and how far away the course is from your location and also ratings and reviews. If you like apps, UDisc is an app for iPhones and Androids. 
The above sites list the following courses which are public, free and within an hour's drive from Ace Runners' retail store:
Centennial Park (Mission, BC) 
Dale Ball Passive Park (Langley, BC) 
Eastview Park (North Vancouver, BC) 
Jericho Hill (Vancouver, BC) 
Little Mountain - Queen Elizabeth Park (Vancouver, BC) 
Mundy Park (Coquitlam, BC) 
Quilchena Park (Vancouver, BC) 
Raptors Knoll Disc Golf Park (Langley, BC) 
Robert Burnaby Park (Burnaby, BC) 
Rockridge (West Vancouver, BC) 
Thornhill Park (Maple Ridge, BC)
Walden Park (Chilliwack, BC)
Windskill Park (Tsawwassen, BC)
Disc Golf can be played anytime. Most people are fair weather players but there are many people who play after the sun has set and in rain and snow. 
Most of the major disc manufacturers also make their most popular discs in glow plastic. These discs are made specifically to be played in the dark. They glow in the dark after being exposed to UV light. Instead of buying a second set of discs, you can also sticker glow tape onto a disc or LED lights onto a disc made of translucent plastic.
Discs made out of softer plastics are grippier in rain and snow. For rainy weather play, a rainfly for your bag, microfiber towels, raingear, waterproof footwear, gaiters, and a golf umbrella will definitely help. For snowy conditions, tape long streamers (like ribbon for wrapping presents) onto your disc so that you can look for the streamer if your disc slides under the snow. Just remind yourself that less than ideal weather probably means you won't play your best round so you should be playing just to enjoy the game.
Disc golf can be played by people of all ages and is a lifetime fitness activity. The basic rules are very simple and the activity consists of throwing a disc with the goal of getting it into a target, walking, and bending down to pick up your disc so that even a multi-generational family – from the 5 year old to grandpa or grandma – can play together. Unlike most other sports where certain body types give you a huge competitive advantage, anyone can excel in disc golf with great technique and practice.
Over the last several years, disc golf has experienced a tremendous growth in popularity. Many new players have discovered the sport and fallen in love with the community, easy play, and the affordability of the sport. Unlike ball golf, where a beginner might spend hundreds of dollars on clubs and even more on green fees to start playing, a new disc golf player can begin playing for under $20. There are no fees to play most disc golf courses, meaning no additional money needs to be spent on anything other than equipment.
Disc golf is also a very social sport. It is easy to play a few rounds with existing friends or meet new ones out on the course. For new, casual players, there is no obligation to play extremely competitively or even keep score. Disc golf is meant to be a fun game, accessible to all levels of participants, no matter how experienced they are in disc sports.
Top 5 Reasons to Play
Affordable: You can buy a disc for under $20. Most courses are public and free.
Social: You can play with friends, family and people you meet on the course.
Exercise: Playing exercises your body (you are essentially hiking and doing squats to pick up your discs) and your mind (competitive play requires strategy and a basic knowledge of physics in terms of disc angles and flight and how wind comes into play).
Fun and Competitive: Disc golf is easy to learn but hard to master. You can play for fun and not keep score or you can compete in leagues and tournaments for bragging rights and/or prizes.
It's Outside: Playing outdoors gives you a reason to unplug and enjoy nature.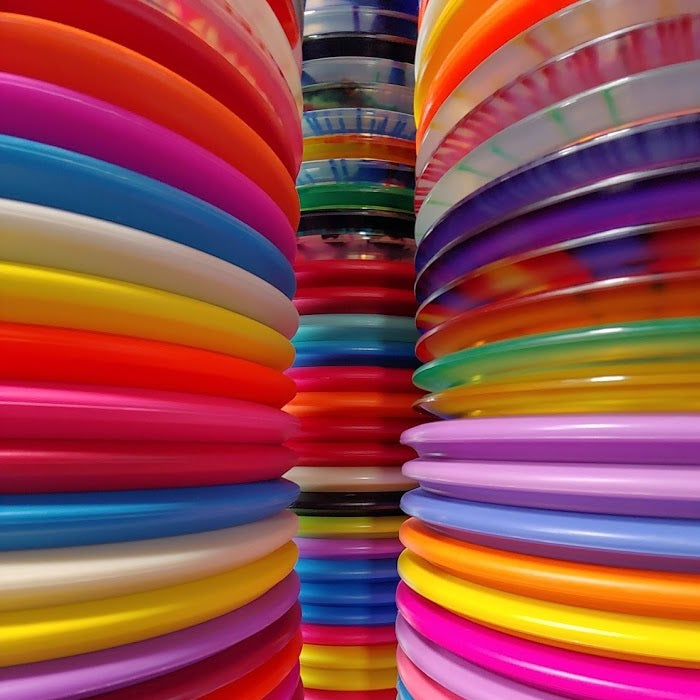 DISCS
WHAT DO YOU NEED TO PLAY DISC GOLF?
Learn about disc basics such as the four types of discs, flight numbers, and how different plastics and weights affect disc flight. If you want to forego the research, this is also where you can find beginner friendly discs to start your disc golf journey.
Disc Basics and Beginner Friendly Discs
How to Throw Golf Discs
If a picture is worth a thousand words, then a video is worth much more. It is very difficult to explain how to throw a golf disc so we have provided a few links to some How To Disc Golf videos on YouTube where you can also search for much more video tutorials.
Learn about Basic Disc Golf Throws