Dynamic Discs - Marksman Basket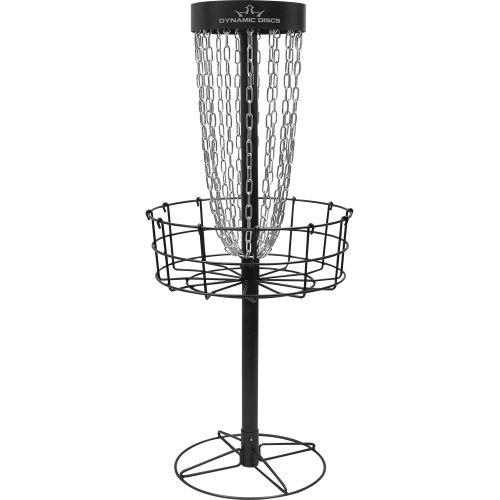 The Marksman by Dynamic Discs will make you a better putter. Period. It will force you to focus while putting and have a more repeatable putt. It will give you more confidence and sharpen your mental game. It will take strokes off of your score. If you want to get better, get the Marksman.
15 chain sets that are zinc coated
The Marksman Basket is electrophoresed first and then powder coated for extra protection from natural elements
Tension screws are included for increased stability
The top band on the Dynamic Discs Marksman Basket is 3" tall.
The Marksman Basket is easy to carry in a car's trunk because the pole is made of two parts
The Dynamic Discs Marksman Basket is mainly meant for portable use. Meaning permanent installation, or prolonged exposure to the elements, can eventually compromise the integrity of the basket's composition
Limited Warranty: Dynamic Discs Marksman baskets are covered under warranty against failure due to manufacturing defects. Should your Marksman basket be determined by Dynamic Discs to be covered by this warranty, it will be repaired or replaced at Dynamic Discs sole option. Your limited warranty does not cover costs for labor, removal, or the installation of warranty parts. Your warranty does not cover Marksman baskets which have been damaged due to misuse, abuse, or accident such as:

vandalism
improper or unauthorized repair
fire, flood, "acts of God," or other contingencies beyond the control of Dynamic Discs
powder coated finishes are not covered from chipping, scratches, or fading.
rust and corrosion (caused by prolonged exposure to the elements)
If you have a warranty question about a Dynamic Discs Marksman basket that you have purchased from Ace Runners, please contact us with photos and we will work with Dynamic Discs to resolve any issues.